Shopping Cart
Your Cart is Empty
There was an error with PayPal
Click here to try again
Thank you for your business!
You should be receiving an order confirmation from Paypal shortly.
Exit Shopping Cart
| | |
| --- | --- |
| Posted on April 27, 2018 at 11:30 AM | |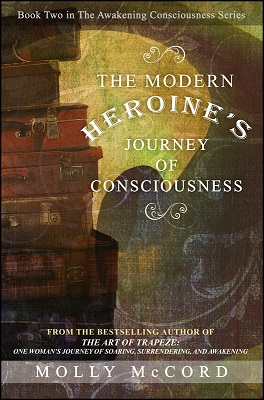 Every woman is her own heroine. Every female is part of the grand journey of rising consciousness and rising feminine power on the planet.
We are each contributing, offering, sharing, learning, healing, stumbling, figuring it out as valuable Soul pieces of the sum total Soul.
And the best way for each of us to individually contribute is by answering the Call of your Soul. You know what it is at some level of your being. You understand what you need to do or at least you've had glimmers of it. You came here with this knowledge.
Becoming your own Modern Heroine is a journey as unique as you, and also tied to all feminine energies through the cosmic web that unites us in more ways than perhaps our Ego-Minds would like to acknowledge at time.
We are here for each other.
We are here for ourselves.
We are here for God.
We are here for our Soul growth.
We are here.
We support each other as women when we share our stories and put ourselves out there. When we say This Is Me - not, THIS IS ME or this is me - but a powerful, confident:
This Is Me.
The Modern Heroine's Journey of Consciousness opens you up to more of you that has always - always! - been waiting for you.
And that means questions come up along the way...
"What about spiritual growth?
How are we able to expand our personal consciousness in modern times?
How does the archetypal hero's journey relate to our crazy-hectic-busy lives, contemporary choices, and a quest for personal spiritual growth?
Notably, the journey of spiritual growth is different from the visual, physical, public hero's journey we typically recognize in movies. Spiritual growth is a personal, internal, sacred, emotional experience often viewed only by invitation. It is different for every person and for each woman, yet there are also common themes and stages that make spiritual growth an archetypal journey.
Who is today's modern heroine?
I refer to the archetype of a modern heroine as a Trapeze Artist. A Trapeze Artist is a woman who jumps for any number of dreams in her life, from world travel and life adventures, to owning her own business, expressing her creative skills, or completing a marathon. She volunteers in the Peace Corps, or decides to leave a job to raise her children, or goes back to an office after raising children. She has battled through extreme weight loss, or bravely opened up to her true sexuality and owns it. She has served in the military and returned home as a different woman. Or she has entered a national televised singing competition and experienced an extreme life transformation.
There are eleven stages of the journey that pertain to today's modern heroine and spiritual growth.
Additionally, the journey can be understood through five types of consciousness and two main perspectives, the Elevator and the Spiral."
"The Modern Herione's Journey of Consciousness" is on sale for only 99 cents worldwide for a limited time. 
 
Categories: Conscious Books, Conscious Messages , Affirmations
/